Survey Meter
Survey meters are portable radiation detection and measurement instruments used to check personnel, equipment and facilities for radioactive contamination, or to measure external or ambient ionizing radiation fields (to evaluate the direct exposure hazard).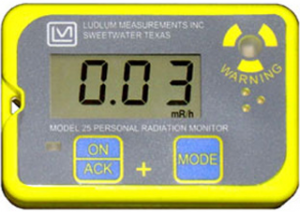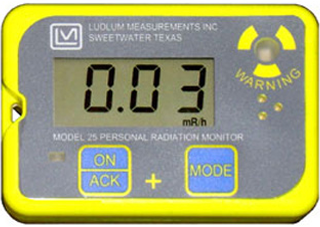 Model 25 LUDLUM
The Model 25 is a conveniently small-sized device designed to warn users any time they are in a potentially harmful radiation environment. The design was specifically designed to warn emergency personnel entering into unknown environments but will equally serve anyone working near radioactive sources as in industrial type applications.
Features:
.001 mSv/h to 9.99 Sv/h Dose Rate Range
0 to 999 Sv Accumulated Dose Range
Loud Alarms
Lightweight
Rugged
Easy to Use
6000 Hour Battery Life
Back lit LCD Display
General Purpose Ratemeter – Model 3 Survey meter & Model 44-38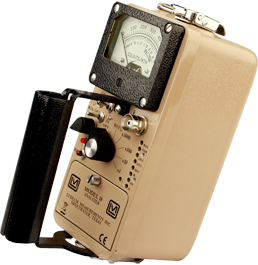 This is Ludlum's best selling, general purpose, handheld analog ratemeter known for accuracy and long-lasting dependability. The analog meter comes in a variety of measurement ranges and units to support the external radiation detector selected.
Features:
Low Price
Rugged
4-Decade Analog Ratemeter
Supports GM & Scintillation Type Detectors
Greater than 2000 Hour Battery Life
Beta Gamma Detector – Model 44-38

Specifications:
INDICATED USE: beta, gamma survey
SUGGESTED INSTRUMENTS: general purpose survey meters, ratemeters, and scalers
DETECTOR: 30-45 mg/cm² stainless steel wall halogen quenched GM
SENSITIVITY: 1200 cpm per mR/hr (137Cs gamma) with window closed
ugh Window: solid aluminum (610 mg/cm²)
CONNECTOR: series "C"
SIZE: 3.3 cm x 16.5 cm (1.3 x 6.5 in.) (Dia x L)
WEIGHT: 0.5 kg (1 lb)
PENCIL DOSIMETER
This direct reading dosimeter is a rugged instrument, which measures accumulated quantities of gamma and X-ray radiation up to 200 mR. Applications include personal and environmental monitoring. The low-energy feature has hospital applications including fluoroscopy, portable radiography, and angiography. This pocket sized instrument is lightweight and has a sturdy clip to attach to an individual's pocket.
Features:
Sensitive to Gamma and X-ray
0–200 mR
Lightweight
Hermetically Sealed
Meets ANSI N13.5 & N322
Responds Well to Fast Pulse X-Rays
Low Leakage, Measures Background